Landmark Hair Location & Contact Information
Contact Information:
Landmark 2 Building
1708 – B22 Dolphin Ave.
Kelowna, BC
*Located on the Lower Level
*Complimentary parking available!
Phone: 250-763-7819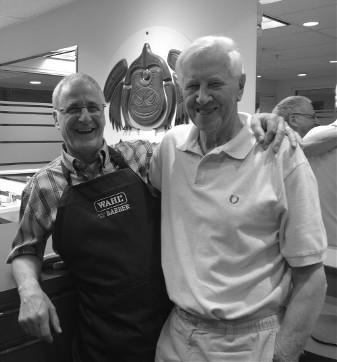 About the Artist
Robert Dow Reid was born in Glasgow, Scotland in 1933, at the age of 16 he began serving an apprenticeship to become a marine engineer in the Glasgow shipyards. He immigrated to Kelowna in 1964 where he still lives. He has become a world renown artist  whose work is owned by members of the British Royal Family and many other world leaders. Kelowna is the home of two of Reid's most famous works 'Spirit of Sail' at the foot of Bernard Ave, and 'Rhapsody' is located at the fountain in waterfront park. 
In the early 70's Bob became a client and friend of Jean and created his business logo 
'Le Frog' 

Which now is on display at his present location (Landmark Hair)